Benicia Year Round Walk
Benicia State Recreation Area
SANCTION NUMBER:
111428 2019/Y1346

Special Event Classifications:
Alternate Capitals

LOCATION:
First Street Cafe, 440 First St. Benicia, CA 94510, 707-745-1400

Start Times:
Mon-Fri, 7AM; Sat&Sun 8AM. Closed some major holidays. Finish by dusk.

DISTANCE:
10 KM (6.2 Miles) and 5 KM(3.1 Miles)

TRAIL RATING:
Rated 2B. Botanical Garden on 10K route only. A beaufiful trail along the Carquinez Strait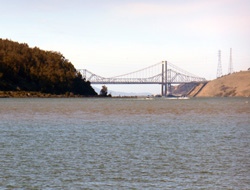 to a lookout point where you can see the Carquinez Bridge. It is a very peaceful walk. The route starts at a small waterfront park and continues through neighborhood to Benicia State Park. A portion of the walk is on Bay Area Ridge Trail with views of Carquinez Bridge and straits and past Forrest Deaner Native Plant Botanic Garden. Portions of this walk are covered by a complimentry audio tour you can receive on your iphone or ipad. Go to Audio Tours - "Benicia by the Bay" to get the details. Pets must be on leash.
AWARD:
The event is "credit only" which is $3.00. "B" Awards are available for an additional $1.00. You may participate free if no credit is desired. No refunds. The event is open to everyone.
ADDITIONAL INFORMATION:
Contact Howard McGill,707-447-9431, email hiwayhowie@aol.com
MISCELLANEOUS:
Restrooms available at the start. Water and restrooms are also available along the route. Try to plan your walk so you can enjoy the great food at the start point. Parking on First Street is limited to two hours. The side streets are unlimited and there is also a free city parking lot one block east of First St. on E Street. The event must be completed during daylight hours. Register by filling out the start card, waiver, and Registration Log Form at the Start Point. Please pay by check to Vaca Valley Volks or exact change.
DIRECTIONS:
440 First St, 94510,
From I-80 or I-680 take I-780 to Benicia. Take 2nd St exit, turn Left to Second St. Turn Right to Military E, Left on First Sreet to First St. Cafe.
From First St. Cafe you must drive approx 1.8 miles to Matthew Turner Shipyard Park - From First St Cafe, go back on First St to K St. Turn Left (W) to K St. Continue to W 12th St. Turn Left on W 12th St to Matthew Turner Shipyard Pk.