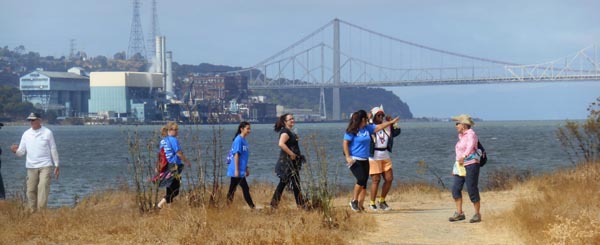 Year Round Events (YREs)
Year Round Events (YREs) are done by individuals or small groups at any time during the year. These are events are set up and sponsored by a local club and can be done any time for credit. It is a "self-service" event. There is always a box or binder that is located at the start point (in a store usually) that has the walk directions, stamp(s), money envelope, and all the other materials necessary for the walker to self-register. A full listing of start points for all California YREs can be found in the back section of the CVA's quarterly publication, The Compass.
Vaca Valley Volks sponsored YREs
The Vaca Valley Volks Walking Club sponsors 6 year round walks. Use the links below to get detailed information about each event. Most walks have 5K and 10K options. The Mill Valley walk is a "Distance" 24K walk, composed of two loops - a 10K Mill Valley loop and a 14K Sausalito loop (there are 5K, 10K and 14Kn options to this walk. We hope you will walk with us.
Every reasonable effort will be expended by the sponsors to make the events safe and enjoyable for all. However, the sponsors cannot be held responsible for any lost, or stolen articles, accident or injury of any kind at any time.
There are over 1300 walks in the United States, and many of them in the Northern California area. Here are some of the cities with Year Rounds in our general area:
Calistoga
Citrus Heights
Davis
Galt
Grass Valley
Ione
Jackson
Marysville
Roseville
Sacramento
Sacramento/Natomas

Santa Rosa
Sonoma
Stockton
Sutter Creek
Tahoe City
Tahoma
Truckee
Vacaville
Weimar
Yuba City