LOCATION:
Walnut Ave. & Connolly St. Vallejo, CA 94952 (Mare Island)

START TIME:
9:00 a.m. - noon
DISTANCE:
5/11K
TRAIL RATING:
2A

DESCRIPTION: Vaca Valley Volks invites you to their annual Mare Island Flyway walk on February 10-11, 2018 in conjunction with the 22nd annual San Francisco Bay Flyway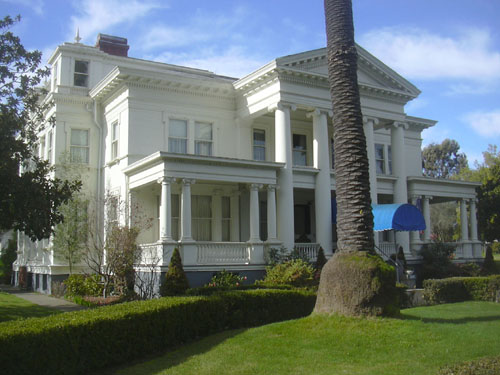 Festival. The Flyway Festival is held on Mare Island and is an annual celebration of the migration through San Francisco Bay of more than 1 million shorebirds and hundreds of thousands of ducks, geese, hawks and other wildlife at the peak of migration . In addition to our AVA walk, there are guided and self-guided tours, wildlife shows, art exhibits, lectures and non-profit organizations and commercial vendors with items for sale.
Traditionally, Vaca Valley Volks makes a dated patch available for the flyway walk, with a different bird each year. This year will be no different, and the featured bird for 2018 will be the Black Necked Stilt.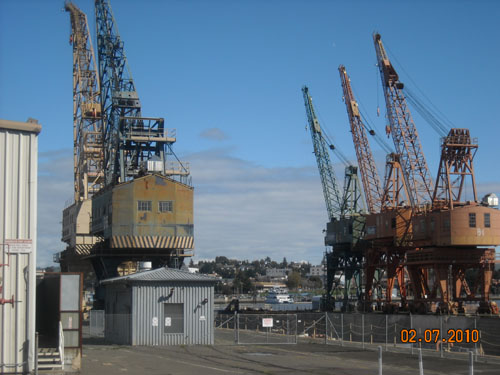 But, in addition to our normal patch, we will also make a unique undated "Mare Island Crane" patch available which reflects back on Mare Island's history as a Naval shipyard. The three cranes depicted are the same ones that once worked on Mare island's three dry docks.
According to legend, in 1835, a number of the Mexican General Vallejo's horses were being ferried across the Strait from the Contra Costa shore to Benicia when the crude barge capsized. Weeks afterward, one of horses, a white mare, was discovered grazing on the hillside of the island across the channel from Vallejo. From that day, the island was known as "Mare's Island", later shortened to Mare Island.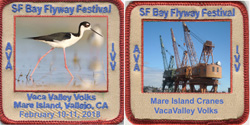 The 11KM walk will go to the top of the hill to the old lighthouse site, to bunkers, circle around the Spirit Ship and geologic marker and the dry dock area. The former Mare Island Naval Shipyard was the U.S. Navy's oldest installation in the Pacific and during World War II turned out scores of ships and submarines. Warships damaged in battle were also repaired and refitted in the base's dry docks. It was an active navy base from 1854 until closed in 1996. The dry docks and submarine slips are still standing and can be seen on the walk. The walk proceeds along "Officer's Row" where the higher ranking officers on the island lived. At 10,500 square feet, Quarters A is largest of the thirteen white Colonial Revival mansions which once lined Officers Row. Known as " The Admiral's Mansion", it was once the home of the highest ranking Officer on Mare Island. The other twelve quarters on the row had 7,500 square feet each and had the same basic floor plan, which included a partial basement.
St Peters Chapel is the oldest continuously operational chapel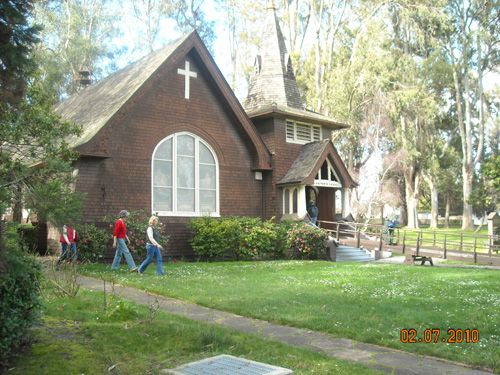 in the Navy. Built in 1901, it is a classic example of Victorian Gothic architecture with its tidy brown shingle, cream-colored trim, steep pitched roof and a soaring octagonal spire. The chapel is non-denominational and houses one of the largest collections of Tiffany glass under one roof. We hope to see you for a weekend of bird watching and history. For more information, check our web site http://vacavolks.org
AWARD:
A patch is available. only You may participate free if no credit is desired. No refunds. The event is open to everyone.
ADDITIONAL INFORMATION:
Pets are permitted with leash except on the 5K San Pablo Bay Trail route. Wheelchairs and strollers would be difficult on the gravel roadway portion of this route as well as the compacted earth trail if wet. Not all sidewalks in the historical district have curb cuts. 5K is rated 1A and 11K is rated 2AKathy Gaehler, kathygaehler@comcast.net
DIRECTIONS:
W/B I 80 from Sacramento, Exit 33B onto Hwy 37 towards Novato/San Rafael. E/B I80 from San Francisco, Exit 33 onto Hwy 37 towards Napa/Novato. Continue on Hwy 37 about 2.5 miles to Mare Island Exit #17. Cross over the highway into Mare Island onto Walnut Ave. Continue about 1.3 miles to the stop sign at "G" Street. Continue ahead on Walnut Ave to the Flyway Festival and Start Point. The start point will be at the Vaca Volks booth inside the building. Actual building number and address was not available at time of sanctioning. Please visit www.vacavolks.org for updated information.