Menu
Home
Calendar
Membership
Other Links
Photos
Scheduled Walks
Year Round Walks
Year Round Events
Alameda - Victorian
Alameda Bay Farm Isle
Benicia - State Rec Area
Benicia - Historic
Mill Valley
Vacaville Bike
Vacaville (North) Walk
Joe & Jo Memorial Walk (Lagoon Valley)
Pittsburgh
Sausalito
Sausalito Year Round Walk
SANCTION NUMBERS:
100342 - Y0392

LOCATION:
Mill Valley Community Center, 180 Camino Alto, Mill Valley, CA 94941
HOURS:
M-F 6:30am, Sat 7:30am, Sun 8:30am, Finish by dusk.
DISTANCE:
10K, 14K
TRAIL RATING:
Rated 1A.
Sausalito is a tourist destination that everyone wants to see. It's restaurants and shopping are some of the best in California.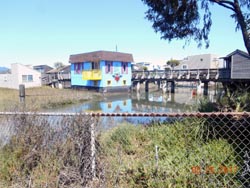 The walk starts on a walk/bike trail that goes from Mill Valley along Richmond Bay with a geat variety of water fowl and then contines into Sausalito. The walk is on flat city streets and a walk/bike trail. The trail goes through a wetlands area with many birds, past numerous houseboats and continues into the bayside town of Sausalito. The 10 km route will turn around at the beginning of the Sausalito business district. The 14 km route continues further into Sausalito with its many shops, art galleries and restaurants.

AWARD:
These events are credit only which is $3.00. You may participate free if no credit is desired. No refunds. The event is open to everyone. ADDITIONAL INFORMATION:
Contact

Jill or Bud Simmons, 707-448-5148

MISCELLANEOUS:
Water and restrooms are available. There is little shade on the walk, sun protection and hats are recommended. In 2018 this walk will be combined with Mill Valley for a 24K walk. DIRECTIONS:
From Hwy 101 North, take the Tiburon/ Belvedere (131) East Blithedale exit. Turn left on E. Blithedale and go approximately 1/2 mile to Camino Alto (traffic light). Turn left for approximately 1 block and the Community Center is on the left.
From Hwy 101 South, take the Tiburon/Belvedere (131) East Blithedale exit. Turn right on E. Blithedale Ave. and follow above directions. Register at the reception desk in the Fitness/Aquatic Center.