Menu
Home
Calendar
Membership
Other Links
Photos
Scheduled Walks
Year Round Walks
Year Round Events
Alameda - Victorian
Alameda Bay Farm Isle
Benicia - State Rec Area
Benicia - Historic
Mill Valley
Vacaville Bike
Vacaville Historic Walk
Joe & Jo Memorial Walk (Lagoon Valley)
Pittsburgh
Alameda - Bay Farm Island
SANCTION NUMBERS:
11430 - 2019/Y0619

START POINT:
Cafe au Lait, 3215 Encinal Ave Ste D, Alameda, CA 94501.

START TIME:
Mon-Fri 6:00am-5:00pm; Sat and Sun, 7:00am-5:00pm. Closed holidays.

DISTANCE:
5,11K

TRAIL RATING: 1A
The route is mainly paved and goes by parks, along canals and along San Francisco Bay, offering a skyline view of San Francisco and the bay.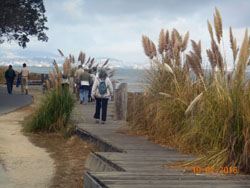 This 11 km walk includes 3 km of picture postcard views of Alameda Island, Oakland, the Bay Bridge and San Francisco Bay. It's called Alameda Bay Farm because the area used to be an island of farmland, the principle crop being asparagus. But due to land fill it has become a peninsula and the only thing planted now are houses. On the way back you walk on a public walking path along a series of large lagoons that features beautiful up-scale homes, outstanding landscaping and waterfowl. Registration box is under the counter on left wall.

AWARD:
These events are credit only which is $3.00. You may participate free if no credit is desired. No refunds. The event is open to everyone. ADDITIONAL INFORMATION:
Contact Pricilla Fife, 916-616-6003, email:prfife@gmail.com MISCELLANEOUS:
Strollers: Easy | Wheelchairs: Easy | Pets: Yes | Restrooms: Yes DIRECTIONS:
3215 Encinal Ave Ste D, Alameda, CA 94501.
From I-580 or I-880 into Oakland, exit at High St. Go SW on High St across the High St Bridge into Alameda. Continue on High St to Encinal Ave. Turn right on Encinal to Cafe au Lait on right. Street parking available on cross streets.